Health Blog
Keeping shoulder immobilized may not be necessary after surgery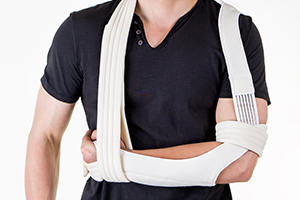 Biggest concern following repair is another tear
The rotator cuff is a network of muscles in the shoulder that allow it to lift and rotate, and tearing it will weaken the shoulder and make many activities more difficult. If pain from a rotator cuff tear doesn't improve with conservative (non-surgical) treatment, surgery may be recommended. Rotator cuff repair usually leads to positive results, but the biggest concern is experiencing a re-tear after repair. For this reason, the shoulder may be immobilized for a period of time to reduce the chances of a re-tear, but it's unclear how long the shoulder should be immobilized. Therefore, a powerful study called a randomized-controlled trial (RCT) was conducted in which immobilization periods were compared to one another.
Rehabilitation consist of four stages
Patients with a rotator cuff tear who underwent surgery were recruited. Eighty-eight fit the criteria and were randomly assigned to the four- or eight-week group, which were identical aside from the amount of immobilization. After surgery, rehabilitation consisted of four stages: stage 1 was immobilization using a sling for either four or eight weeks, and no exercises were permitted. At stage 2 the sling was removed and gentle exercises were instructed by a physical therapist for six weeks, and at stage 3 strengthening exercises began. Finally, at stage 4, full activity was allowed if the patient had no pain. Patients were then evaluated for a re-tear and other outcomes at six and 24 months after surgery.
Extra immobilization does not seem necessary
Results showed that immobilization led to good outcomes for all patients, and the re-tear rate was very similar in both groups: five tears in the four-week group and four in the eight-week group. At the final follow-up, there were no differences in range of motion or clinical scores between groups, and 89% of patients rated their result as excellent or good. In addition, more patients in the eight-week group (38%) experienced stiffness at 24 months than the four-week group (18%). Based on these findings, it appears the additional four weeks of mobilization does not lead to any greater benefits for patients and may actually increase stiffness. Starting mobilization earlier may lead to better, faster results and help patients return to activities more quickly.
-As reported in the March '14 issue of
The Journal of Bone and Joint Surgery
December 30, 2016
Back to Health Blog