Health Blog
The Value of Physical Therapy for Back Pain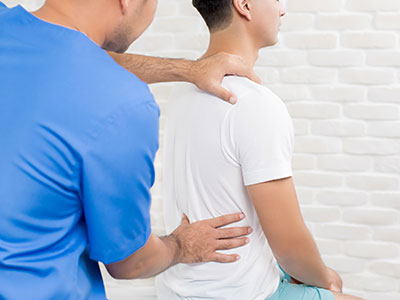 Physical therapy is the most valuable-and effective-approach you can take to treat your back pain
In our last article, we showed you choosing the traditional medical path for treatment of your back pain can be a costly choice that may result in unnecessary tests and potentially risky treatments like surgery. Here, we explain why the best possible alternative to this traditional course of care is physical therapy, and why treatment from a physical therapist will provide you with the greatest value and in most cases, the best outcomes.
Skip the wait and see your physical therapist directly
In the traditional model of care for back pain, it can take up to 24 days before you even get into a doctor's office for an evaluation and recommendations on what to do next. As we've seen, the doctor may then refer you to a physical therapist, or they may refer you to see another specialist or have additional tests, meaning a longer wait before treatment can actually start. All of this can be easily avoided by directly seeing a physical therapist in the first place.
You may be wondering how this is possible, as some people are under the false impression that a referral is necessary to get a physical therapy appointment. But thanks to a growing effort from physical therapists throughout the country, recent legislation changes have now made direct access to physical therapy a right for everyone in all 50 states and Washington, DC. This means that you don't have to wait for a doctor's appointment and a referral for physical therapy, and can simply schedule your first visit with a local physical therapist directly. Each state has its own specific regulations regarding direct access to a physical therapist, but every state allows for at least an evaluation with a physical therapist. Click here for more information on your state's specific laws.
Why physical therapy will cost you less time and money
Once you've made your first physical therapy appointment, you're already on your way to a better outcome with a superior value to the traditional course of care. While the actual total cost of physical therapy treatment will vary depending on several factors, the average is reported to be about $1,000 for 10 treatment sessions. This may sound expensive initially, but compare it to the cost of other interventions for back pain:


Average cost of one MRI: $2,611


Average cost of a series of injections: $3,857


Average cost of one year's supply of opioids: $6,754


Average cost of back surgery: $31,549


It's clear that physical therapy is significantly less expensive than these other interventions, and it's also important to remember that some of these options may not even fix the problem that's causing your pain. Look no further than some insurance companies for proof that physical therapy is the best first choice. Humana, one of the nation's largest insurance providers, has removed the need from preauthorization for physical therapy. Click here to read more about that.
Another study has also shown that simply seeing a physical therapist first will wind up costing a patient $4,793 less for the care they receive compared to if they were to have an MRI first. As you may have guessed, this is primarily due to the ordering of additional tests and prescription of pain-relieving medications like opioids.
Yet another recent study looked into the connection between opioids and physical therapy directly to see how they affected one another. They tracked patients with a new case of lower back pain for one year, and found that the most commonly used intervention was opioids, with 42% of patients receiving a prescription. Patients who consulted with a physical therapist, however, were 35% less likely to receive a prescription than those who did not. Going on to participate in a physical therapist program reduced the odds of being prescribed an opioid even more.
It's not just the value: physical therapy is also effective
As you can see, physical therapy is far less costly and more valuable than the traditional course of care that you will likely enter into if you go to a doctor for your back pain first. But this value is not the only reason it's the best possible option for back pain: the treatment also works!
Starting at the first treatment session, your physical therapist will perform a thorough initial evaluation to determine the likely cause of your pain, why it's limiting your movement, and will develop a personalized treatment plan. Each physical therapy program is different, but some of the most commonly used treatments for lower back pain include:


Patient education


Stretching exercises


Strengthening exercises


Manual therapy


Manual therapy is a popular treatment physical therapists perform to treat back pain in which they use their hands to manipulate and mobilize different parts of the spine in order to create changes that will result in less pain and better functioning. One recent pair of studies reviewed 26 high-quality trials that evaluated a type of manual therapy called spinal manipulation for patients with lower back pain. Results showed that the manipulation led to modest improvements in both pain and function for patients that lasted for at least six weeks.
This is just one of numerous studies that highlight the wide-reaching benefits of physical therapy for lower back pain. Time and time again, the research clearly shows that seeing a physical therapist first will help patients recover quicker, with less of a need for invasive procedures, and with a far lower cost than if they were to see a doctor first and risk enter the traditional route of care. Direct access to physical therapy is available to you right now, so if you're currently experiencing any degree of lower back pain, contact us to schedule an appointment today. Doing so will get you started off on the right foot towards less pain and better functioning without the long waits and high costs.
February 20, 2018
Back to Health Blog